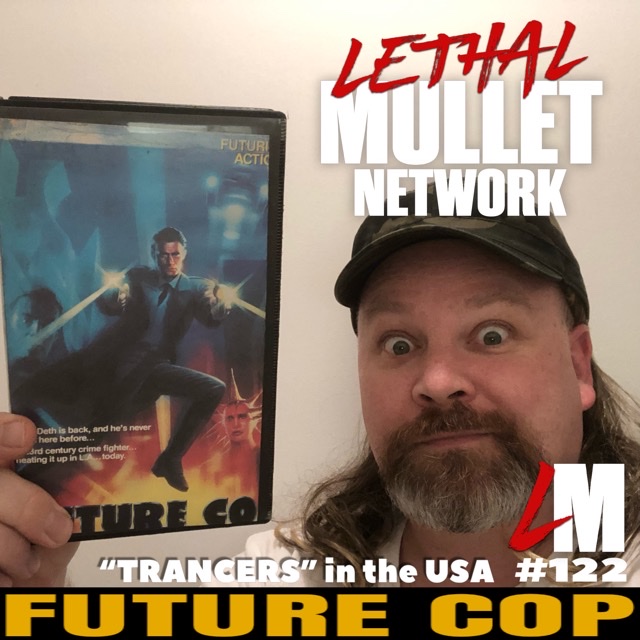 "It's 2247 in Angel City and Martin Whistler has gone back in time. Eluding capture from Trooper Jack Deth. His body left in stasis, his self now in the body of an ancestor in 1985. Hot on his heels Jack Deth goes down the line in pursuit chasing Whistler and his Trancers - mindless Zombie like people controlled psychically by Whistler set on only one path … to kill." 
On tonight's episode join The Mullet as he goes through the Tim Thomerson classic scifi Trancers / Future Cop. A Terminator like time travelling eighties action thriller with a dash of scifi and comedy. 
Title: Future Cop / Trancers 
Year of Release: 1985
Director: Charles Band 
Cast: 
Tim Thomerson - Jack Deth
Helen Hunt - Leena 
Michael Stefani - Whistler 
Art LaFluer - McNulty 
Biff Manard - Hap Ashby 
All here on the Lethal Mullet Podcast! 
Find Lethal Mullet Network on Podbean: lethalmulletnework.podbean.com
You can find The Lethal Mullet Podcast on:
Apple / Google Play / Spotify / Stitcher / IHeartRadio
Contact:
Adam on: @thelethalmullet 
Twitter / Facebook / Instagram
Find Lethal Mullet merch, shirts, hoodies, mugs, posters and more here at TeePublic: https://www.teepublic.com/en-au/t-shirt/22432724-lethal-mullet-lm?store_id=130218
#futurecop #trancers #charlesband 
#lethalmulletpodcast #lethalmulletnetwork